Commercial Roofing - Roofing Contractor of Addison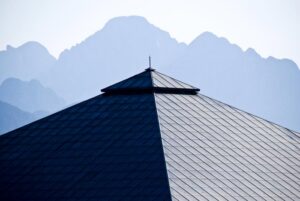 When it comes to commercial roofing, the Roofing Contractor of Addison provides the best in terms of quality and dependability. We serve customers all over Connecticut, and our team of experts is made up of skilled and experienced roofing professionals that inspect, find any damages, and provide solutions for all commercial roofing needs. Contact us for your free estimate!
Every commercial building requires a strong, sturdy, and durable roof that protects your business from the elements and any other potential dangers that could damage it. Our company is able to provide your business with that protection by offering the following comprehensive roofing services:
Commercial Roof Replacement
Roof replacement is your number one option if your roof has suffered significant damage. We at Roofing Contractor of Addison provide quality roof replacement services. It includes helping you make the right choice when it comes to the roofing materials that will be used for your roof. But even if it's solely for aesthetic reasons, we'll still be able to help you.
A new roof can be considered as an investment for your business and we'll help ensure that you make the right choice. Our installation services are reliable and we use only the best materials available. The system that we use is also super efficient and that allows you to continue running your business as smoothly as if nothing is happening.
Fill out the form below and a Roofing Contractor of Addison team member will get back with you as soon as possible.
Different Types of Commercial Roofing
Selecting the right type of roof for your commercial building can be difficult, even confusing if you're not too familiar with roofing. That's why Roofing Contractor of Addison is here to help you out. We'll guide you through the selection process. We'll help make sure that you choose the type of roofing that best fits your building and individual requirements.
TPO – Thermoplastic Polyolefin or TPO, is a very durable and yet cost-effective type of roof that is easy to install. It is energy-efficient, heat resistant, and chemical resistant and also helps save on costs. Single-ply roofing systems for commercial buildings have several benefits. Some of those are easy installation, cost-effectiveness, and excellent protection against the elements. We'll help you decide if a single-ply roofing system is the right one for your building and for your individual needs.
Modified Bitumen – Modified bitumen is a type of roofing that is made for commercial buildings that are made from asphalt products. It's a type of roof that's meant to last 20 years or more. They're resistant to leaks, as well as damage from high winds, fire, and hailstorms.
Metal Roofs – Metal roofs offer several important benefits to commercial buildings. Among those are extreme durability, energy efficiency, low maintenance requirement, resistance to fire, and ability to last a long time.
Inspection
Our team of experts performs inspection of commercial roofs thoroughly. This would help check for any early signs of roof damage or any other problems. Early detection will help prevent the problems from escalating and getting worse.
Industrial Roofing Services
At Roofing Contractor of Addison, we are very much capable of providing top-of-the-line industrial roofing services. Our experts have the knowledge as well as the equipment to address every specific industrial roofing need. We have absolute professionals that can help you whether you have a warehouse roof that requires repair or a store building roof that is leaking.
Roof Maintenance Programs
You want to make sure that your roof is going to be in the best shape possible for years to come. With our roof maintenance programs, you can expect the lifespan of your commercial roofing to extend beyond even your expectations.
Call Today for your Free Instant Quote...